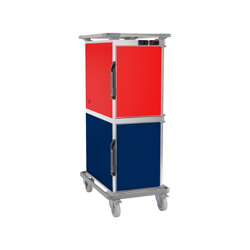 Metos Thermobox CF180 . A trolley, with really good insulation. The
lower compartment with active cooling system with extremly high
reliability. It keeps the temperature with minimal temperature
fluctuations.The upper compartment with convection heating. Short
heating time, hot air fan to compensate temperature losses. It keeps the
temperature within the desired values and with minimal temperature
fluctuations. With all-welded, stainless steel interior. Unrivalled
wear-resistance and easy cleaning with soft-form guides pressed directly
into the steel.

Technical specification:
Exterior walls: ABS plastic
Inner container: Welded container in stainless steel
Inner C w:330 D:540 H:508
Inner F W:330 D:540 H:508
Guides: Stainless steel, pressed from the inner container, 80mm spacing
Insulation: Polyurethane foam
Door: Internal surface made of smooth and seamless stainless steel.
Exterior in ABS plastic with bolt lock and door mounted handle for one-
hand grip
Wheels: Hot-dip galvanized steel. 160mm wheels with rubber tires, two
brakes and two fixed.
Top Frame: Stainless steel and PVC corners.
Trolley frame: Reject list of galvanized steel coated with PVC
C: Efficient compact chillers ...
Read more...