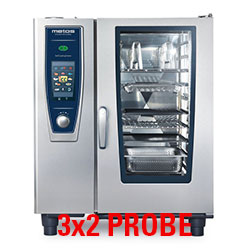 This model is with three core temperature probes, each has two measuring
points. Probes attached externally.
Capacity 10x GN1/1-40mm, guide rail distance 68 mm

Metos SelfCookingCenter is a fully automatic cooking assistant which
cooks everything exactly how you want it. Metos SelfCookingCenter is the
first cooking system in the world to have real intelligence, guiding the
chef to excellent food quality at all times. It familiarises itself with
most used preferences and they can be accessed any time at the press of
a button.

Metos SelfCookingCenter is easy to use and guiding combi steamer. It
monitors each rack individually and controls cooking of different types
of foods at the same time on different guide rails. Automatic cooking
process reprogrammes the best path to your desired result depending on
the food. It makes all the necessary decisions and automatically sets
the temperature, the cooking cabinet climate and the cooking time. Every
adjustment is shown to you on the display with iCC Messenger. User only
needs to specify the food to be cooked and the desired result. Even with
full loads the result is always consistent. Best cooking results every
time regardless of the prod...
Read more...