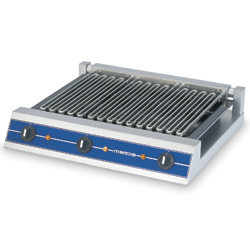 The patented operating principle of the Vapo-grill is ingeniously simple:
grilling directly on the stainless heating elements over a humidifying
water tray. This principle gives the following advantages:
· Nearly instantaneous heating up, since there is no additional
mass to be heated up.
· The vapor from the water tray gives humidity to the product,
thus improving the result and decreasing weight loss.
· The water tray traps all the grease, salt, etc. - no flare-ups,
no flames, less fumes.
· Nice striped look on the product.
· Easy to move and install.
· Cleaning is very easy: after use, pyrolytic cleaning of the elements,
brushing the ashes to the water with a copper brush (enclosed
in the package), and emptying the water tray. The enamelled tray
can be washed in a dishwasher, if necessary.

The Vapo-grill GT3 is very easy to use and clean.