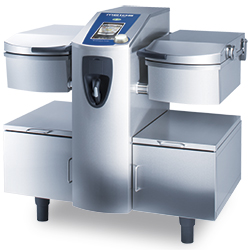 Vario Cooking Center Multificiency
- Superior technology for boiling, frying and deep frying
- VarioCooking Control® mode with 7 process groups: Meat, Fish, Vegetables and Side Dishes, Egg Dishes, Soups and Sauces, Milk / Des
serts, Finishing® and Service
- Manual mode with 3 cooking modes: Pan-frying, Boiling. Deep-frying
- Programming mode
- Temperature range: 30 - 250 °C

Additional functions
- Core temperature detection with 6 measuring points
- Cooking with two different media at the same time in the VarioCooking Center® 112 (e.g. pasta / sauce or steaks / deepfried food)

- AutoLift™ automatic raising/lowering device (baskets for boiling pasta and deep-frying)
- Detection of the cooking medium in the pan: Not possible to burn the oil
- À la carte view for boiling, pan-frying or deep-frying individual portions to perfection
- HACCP data memory and output via USB port
- 250 memory slots for individual processes

Equipment
- Socket
- Integral hand shower with automatic retraction mechanism, integral water shut-off function and infinitely variable jet strength
- Core temperature probe with 6 measuring points
- Boiling or washing water is drained directly by the pan (without tilt...
Read more...