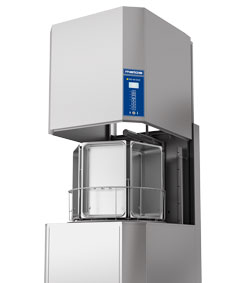 - insulated design with automatic hood lifting
- capacity 6+1 pcs 1/1-65 containers
- can be use both standards baskets and granule cassetts
- break tank, always optimal final rinse water flow
- patented washing system quarantees A good washing and
drying result thanks to the high speed centrifuging
- hygiene warranty easies up the HACCP: the electronics of the
machine cotrols the washing process
- amasingly low running costs: the machine uses only 4-6 litres
fresh water in the final rinse. This also leads to lower
consupmtion of energy, rinse aid and detergent.
- round potwashing cassette for efficient wash process
- room for 65mm deep 2/1 container
- room for 600 x 400 mm baking plates
- flexible Rack: GN containers and other cooking utensils easily
placed in the Rack without troublesome extra equipment
- 9 washing times (wash times are adjustable)
- 3 for normal wash for glass and china 1,3/1,8/3,3 min
- 3 for heavily soiled wash with granulate 5,1/8,1/10,9 min
- 3 for without granulate 2,5/4,0/7,0 min
- total tank volume 90l
- sound level with granulate wash 70 DB

Equipped with:
- 1 round potwashing cassette
- 1 dishwashingbasket for plates
- 1 dishwashingbasket for cutlerys
-...
Read more...