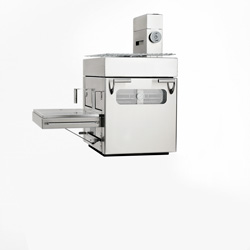 Healthy, light and flawless cooking – the heat of the embers
wraps and "seals" the surface of the food: juices and
mineral salts are retained within, enhancing the natural
taste and flavor while keeping its softness intact, without
the risk of carbonizing the food as in open-flame
grills. Closed chamber is designed to convey only enough oxygen to keep
the embers alive, avoiding the development of uncontrolled flames but
guaranteeing an ideal and constant temperature during service. Hence the
food quality is excellent – the food is perfectly cooked, healthy and
light.

Delivery includes:
- brazier lifting cart
- grill drawer 15
- grill drawer 10
- fire breaker
- chrome iron warmer grill
- grill brush
- fire breaker´s net filter brush
- fire poker
- heat resistant gloves + pot holder
- grill drawer´s telescopic guides (additional pair)
- food safe grease (250 ml)for grill drawer´s telescopic guides


Nominal power 3,81 kW
Suggested charcoal load 3,00 Kg
Consumption rate 0,7 Kg/hr
Average service time 4/6 hrs
(first 3/4 hours maximum heat intensity, last 1/2 hours declining)
Starting time 1 hr
Average production rate (300gr. a portion) 60 portions/hr
Operating temperature 280 / 380 °C...
Read more...