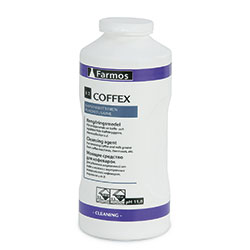 For coffee machines, coffee pots, tea pans, glass jugs, thermos,
espresso machines, gruppo handles

- dissolves easy
- odourless
- no dust
- bleaches and removes dirt efficiently

Kiilto Coffexin user manual
(One measure spoon = cap = 35 ml) Glass and thermos jugs: 5-10 ml / 1 l
water.
Cleaning the brewer tank: 25 ml / 1 l water, use hot water, leave it
soaking for 10-15 minutes and brush then with a soft brush. Rinse
thoroughly.