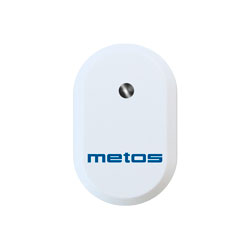 Temperature of any object can be monitored by using a web browser.
Collects also motion data to monitor daily motion like walking,
transport.

How it works:
Metos IoLiving application uploaded into Your smart phone or tablet
transfer stored data from catcher module to web. One smart phone can
transfer data from several modules. You can watch, analyze and share
data with web browser in any PC, computer tablet or smart phone
anywhere.

Sales package:
Metos IoLiving T-catcher module, Metos IoLiving web service and mobile
app, CR2032 battery

Technical data:
Temperature measurment -25°C-+60°C, Measurment accuracy +-0,5°C,
Movement monitoring with a 3D sensor, Waterproof 20m, Bluetooth®Smart
connection (line-of-sight range 30m)

Requriments:
Data is transferred from catchers to web via smart phone or via tablet
with Android 4.4 or newer version.